It's been seven years of Stockwell (SW) on both routes, the 432 having for the first time left Norwood (N) since it split from route 2. Whereas 322 makes it's return to the depot, for the first time as a high frequency route with it's contractual frequency increase back to pre-2005 levels before Stockwell (SW) had the route for their 2005-2010 reign.
I'll be giving my armchair report as a local, whilst giving in some factual data from TfL's performance data sheets to back up some of what I say, but cannot be used to translate one experience to the numbers TfL provided.

It's the 2015-2022 time I will no doubt focus on, the first time 322 ever had a 2 year contract extension, the same could be said for 432 though is not impressive given how relatively trouble-free the route has been compared to it's angsty ancestor in a little body.
VLA6 LJ03MXW, West Norwood
Norwood (N) on route 432 has been stellar, given they held the route since birth in 2003, and conceptually as part of route 2 (overlapping shorts from Brixton to Crystal Palace) since several decades before then as route 2B, even before privatisation.
Common turns: Crystal Palace (southbound) & Tulse Hill Station (northbound).
You'd never see a 432 turned to West Norwood from Brixton, and very rarely see one turned from Anerley. Despite 432 having Norwood (N) central to it, the only respite to be had was driver changeovers, and not being chucked off there. That's not to say it didn't ever happen, but forgettable if it ever happened as it was never frequent.
Running numbers N151+.
8065 SK02TZN, Brixton
This mess. Before writing this post, I've delved into rants whenever discussing using this route to people I discuss with so for my own sanity's sake I've already made a post
Had 30 April 2005 gone differently
, which was a rant to begin with and for the sake of not repeating or making more rants, one word:
Bad.
Better initially than Go-Ahead's not-good-but-not-abysmal 2005-2010 tenure but towards the end of Abellio's tenure, was unbearable.
I've howled on enough in my life about how it's every 15 frequency combined with single door 8.8m vehicles on a route that was double deck catering to more than a million passengers was not a recipe for disaster. See
2002's worst bus route named and shamed
(
BBC News article
).
Common turns: Gipsy Hill (southbound) & Brixton (northbound)
Thinking back, I've rarely had a 322 turned to West Norwood under Beddington Cross (BC). Though the preferable option was, as evident by the above statement, to turn to Gipsy Hill, preferably not resort to curtailments even. As for Clapham North turns, those were alien to me whenever happened. Though under Go-Ahead that would be a normal case given it's proximity to Stockwell (SW) for meal reliefs and what-have-you other reasons. I don't remember experiencing a Tulse Hill turn whilst I have only one instance of a Herne Hill turn.
Running numbers of BC141+ (used to be BC561+ from 2010 to 2012).
Now, for 2015-2022.
Let's start with the first few months, then roll to 2016.
Routes 322 and 432: first months of 2015
I've never been prone to West Norwood turns under Stockwell (SW) than before them, which questions me how I've never experienced such a turn on the 196 yet has become commonplace to me under the 322/432.
Understandably as they got to grips with the 322, service was in it's baby stages but the increased frequency made up very well for any noticeable faults or cracks, just the curtailments (by this point, Gipsy Hill, Herne Hill, West Norwood) which were more numerous now as a high frequency route than a low frequency route.
Whereby low frequency being up to 2 mins early and 5 minutes late is acceptable, but being to time is imperative.
Whereas high frequency the game is for each bus to be distanced from each other by their frequency. In this case, each 322 to be 12 minutes apart ideally.
The former pretty much consolidates a lone-wolf for every separate bus, whereas the latter means every bus is involved in the operation for better or for worse with the high stakes high reward narrative I could push. Regardless, timetable accuracy is not important with high frequency.
As for route 432, it's obvious operation wouldn't be up to the 12-year honed standard of it's predecessor but they would eventually make it there. With a Crystal Palace turn here and there, but unfortunately to it's users more West Norwood turns from either direction than affable.
Route 322 running numbers SW41+.
Route 432 running numbers SW21+.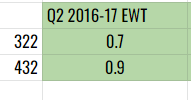 A terrible for year for all Stockwell (SW) routes involved for my experience, whether it be the 196, 315, and in this case the 322 and 432. A good chunk of West Norwood routes, consequently routes I used a lot, held hostage to terrible performance, very notable on the low frequency 315 with 45 minute delays being normal, whereas 322 and 432 were absolutely terrible to experience given neither route had any roadworks or reason for poor service. The problems changed almost overnight, almost as if someone behind it left. A mystery where no detective would be paid well to solve.
I could only find reference to Quarter 2's results from a Quarter 2 2017-18 report archived, which you can see above. This is of course without getting a Freedom of Information request for the files TfL no doubt have stored. I simply use Internet Wayback to a) get this without asking someone and b) immediately.
2017-2018: Uneventful years
WVL332 LX59DDJ, diversion on A205
For the most part nothing happened of note, except Norwood Road was closed to southbound traffic between 12 June 2017 and 2 July 2017 as a precursor to the arc below.
- Routes 2/432/X68/N2 turning left from Tulse Hill via Norwood Road then Rosendale Road to Lancaster Avenue.
- Routes 68/196/322/468/690/X68/N68 diverted at Norwood Road down Croxted Road, Thurlow Park Road then Lancaster Avenue.
Nonetheless, route 322 was a good performer and so was the 432, as evident by below stats.

Performance data 2017/8
2019-2020: West Norwood Thames Water roadworks arc
WVL436 LJ61GWV, West Norwood location of roadworks
27 May 2019. Norwood Road at the junction with Robson Road kept having it's pipes burst, multiple times in that year with a few closures until the third resulted in a long term closure, of up to a year meant to finish in June 2020. The 322 as a result diverted via Lancaster Avenue and an unserved portion of Rosendale Road to continue on it's served portion of Rosendale Road. No other route needed to be diverted for this (except Tulse Hill's contraflow lane being closed).
Thanks to Outer London enhancements, route 432 received a frequency increase (from every 12 to every 10) as a result of being a Croydon route, where routes 249 & 289 received increases as well as routes from other Outer London boroughs. Though in practice the 432 was actually every 11 due to the roadworks, having previously been every 13. This temporary frequency would be shelved the moment the works end, thus routes 249 and 432 had their original frequencies restored.
The same could not be said for 322's every 13-14 frequency, as someone then had the bright idea of closing Atlantic Road during the pandemic. This forced the 322 on a diversion via Coldharbour Lane thus avoiding Brixton Station which due to it being a major traffic objective did hurt it. The diversion's end date did keep increasing until eventually in summer 2021 the diversion really did finish. With the every 12 frequency of route 322 finally coming back in August.

Performance data
Norwood Road would reopen in July 2020, a month later, but alas calm and normality returned.
2020: Coronavirus
With lockdown came service reductions to effectively Sunday-levels since no one should be outside except key workers keeping the nation running. This pandemic happened in the midst of the Norwood Road closure so I'll be brief and post the EWT below.
Relevant quarter and amazing Excess Wait Time results
The Norwood Road closure would finish a little later than intended due to Covid but alas I can repeat it's duly finished as of July 2020.
Another long term diversion immediately reared it's ugly head, specific to the 322.
Atlantic Road railway works, from 10 July 2020 to 12 March 2021 29 April 2021. This started as a Covid-related exercise but I can't tell you what the works actually entailed other than the needless disruption it caused.
Brixton diversion
For what it's worth, Lambeth Council set up a
Low Traffic Neighbourhood
in the areas which were meant to stop rat-runs in residential roads. Turns out someone didn't do the math because those rat-runs alleviated traffic on main roads for better or worse. Thus roads like Effra Road became traffic jams overnight which for the purposes of this post, affected 432 negatively.
Conversely, one of the LTNs was on Railton Road. Positively for 322 no vehicles should enter the road. Thus speeding 322s up... on a road relatively quiet anyways so little impact for 322's performance could be observed from this one road.
2021: Lost period
More diversions sprung up left right and centre, and coming back again.
Baring in mind 322 has it's long-term Brixton diversion to contend with as well as the following.
Church Road closure (multiple times).
- 322 diverted via Anerley Hill, Hamlet Road and Sylvan Hill
- 432 diverted from Anerley via Anerley Road, South Norwood Hill, Beulah Hill, Crown Dale to Elder Road
In summary 249 and 432 diverted via Norwood Junction whilst skipping a good chunk of it's route.
Norwood Road unsafe structure, contraflow bus lane (September-present)
- 322 diverted towards Clapham via Christchurch Road, Hardel Rise and Tulse Hill to line of route
This started in September and wasn't meant to take long but found itself with an end date of 1 July 2022 which as of writing this post will most likely extend to oblivion again.
Park Hall Road water works (June and October)
Thames Water at it again with their competence and lack thereof. This happened more than once but the saving grace was... none.
- 322 diverted via Lancaster Avenue and Rosendale Road as per the 2019 diversion arc
Gipsy Road (some point) and St Gothard Road water works (October)
In my life Gipsy Road tended to be the road to need maintenance closures more than other roads until it became more apparent Park Hall Road has crowned that title in 2021. Nevertheless it's standard procedure for 322 to divert at Park Hall Road via Park Hall Road and South Croxted Road to join line of route on Gipsy Hill.
Whoever was responsible for the diversion at NMCC decided it should parallel the 432. Not a gripe I'm unfamiliar to as that's their first response should 3 have an issue anywhere south of Herne Hill. No matter what words I use to convey the amount of area unserved, it's simply a rant not worthy of professional reading. I will say Gipsy Road and Gipsy Hill were needlessly deprived of service.
- 322 diverted at West Norwood via Norwood High Street, Elder Road, Central Hill to line of route at Crystal Palace
Landor Road telecommunication works (multiple)
Not really an issue, just 322 had to do as 345 does and go via Stockwell for a few weeks, for at most two different times. In one direction for one of the diversions which from memory should be towards Clapham Common only.
- 322 diverted via Stockwell Road and Clapham Road
Long Road burst water main (June-July)
It affected cross-Clapham routes more but for terminating routes like 322 and 417 the diversion was really minor but alas the routes had to use Clapham Common South Side and Rookery Road to get back to route.

Two results of 2021
notice how 322's SWT improves

(frequency from every 13-14 to every 12)

, yet EWT worsens
Another factor was that 322 had more timetable changes post-diversion.
I touched upon it's August re-entry into being an every 12 route, though as the data above indicates, performance worsened. Abysmal performance at that. After a few months the towel was thrown and in February 2022 the 322's headway widened back to every 12-1 which alleviated some but not most of it's bad performance.
It's a misnomer to count the last 4-5 months of their contracts in 2022 when the multiple years prior gave plenty of data to work with, and by the time the next quarter is published, Abellio would have plenty of time on 322. In terms of experience however, the 322 is slightly better in 2022 than in 2021 owing to it's frequency going back to every 13 (every 12-13 really) whereas 432 has had no issues.
As of March 2022, 322 received a new diversion due to telecommunication works on Atlantic Road due to end on 2 May.
- 322 diverted towards Crystal Palace via Brixton Road, Effra Road and Saltoun Road
- 322 diverted in both directions (0800 to 1800) via route 196, diversion ending 17 May
If you were unlucky enough to ever converse with me regarding 322 you would know I've lamented it's service post-2020 particularly when the Brixton diversion ended.
I look fondly back in 2015 and 2017-2019 when the 322 was a reliable every 12 route with it's only shortcomings being it's vehicle size but alas not a Go-Ahead issue but a TfL mandated one. Whereas with the 432 it's been relatively good (minus the 2016 issue I brought up) and improved with it's frequency increase in 2019.
Above 1.0 is bad, basically
A rudimentary graph of performance (322 and 432)
All in all, the 432 performed well post-2019 whilst the 322 suffered from a plague of it's own insecurities with every timetable change being a different level of salt in the wounds.
Common turns (432): West Norwood and Crystal Palace (southbound) & West Norwood (northbound)
Common turns (322): West Norwood and Gipsy Hill (southbound) & Clapham North (northbound)
In general since 2019 the 322 has seen all curtailments, with Tulse Hill Station briefly being the most common in both directions at some points, whereas Herne Hill has been used many times in order to light run some 322s to Clapham.
The last Go-Ahead 432 was WVL437 at 01:08.
The last Go-Ahead 322 was SE235 at 00:44.
I did say the next post would be focusing on statistics but I've wound up thinking of doing a report analysis on the 322 and 432 from armchair myself. To my credit, I've brought a fair amount of numbers, more than I envisioned stepping into this.
With all that said and done, I hope you enjoyed this unusual foray and look forward to the next post, of which I make no promises what content it could be...
not 322-related please.
Until then, stay safe!
Enjoy screenshots I've kept for my own reference and here is the spreadsheet link
:
07/09/2021
03/11/2021
17/11/2021
23/11/2021
03/12/2021
16/12/2021
23/12/2021
Change of computer later
11/02/2022

03/03/2022